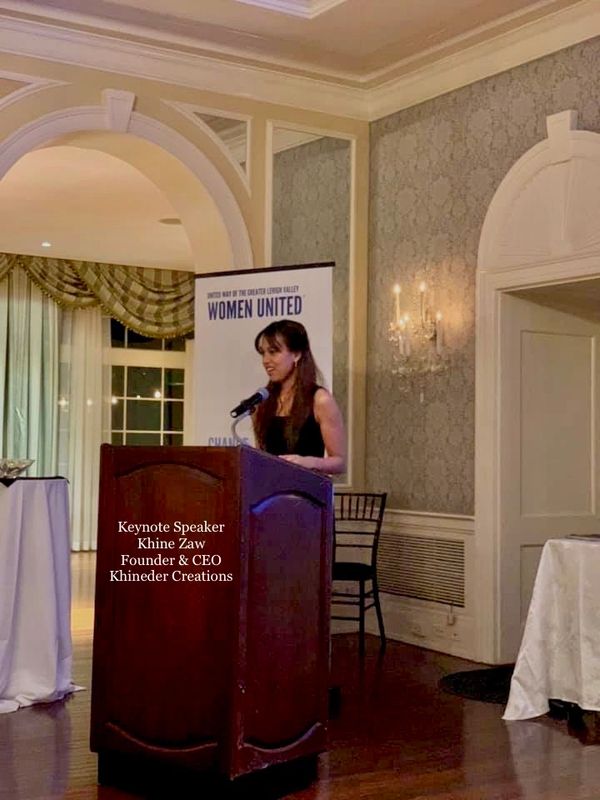 Meet Our Founder

Khineder Creations is founded by Khine Ngwe Hnin Zaw.  Khine was born and raised in Yangon, Myanmar (Burma) and came to United States in 2013 with her former husband who is Allentown-native after obtaining her Ph.D in Human Security from University of Tokyo . Over the past decade, she has traveled to more than thirty countries as a humanitarian worker and researcher , and learned extensively about the healthy lifestyles that people have adopted in each culture. While she was working as a Senior Officer for women and children at Association of Southeast Asian Nations (ASEAN), she was faced with numerous challenges of how she can empower women, especially mothers and home-makers that did not have the liberty to work outside due to their heavy responsibilities. She focused on helping them improve their lives by uplifting their self-esteem through creating job opportunities where they can turn their passions into profits . So when she was introduced to home-made lip balms and soaps by a local after she moved to U.S, she was immediately drawn to the idea of opening a business , where she can support mothers and create a quality product that they can all feel proud of while taking care of their families.
Khine is continuing her research work in finding sustainable solutions for irregular migration and reintegration of migrant workers' families in developing countries as a Postdoctoral Research Fellow while splitting her time between motherhood and being the creative force of Khineder Creations. She is also an advocate for the rights of indigenous people and introducing their fascinating way of connecting with nature through her products and recipes .

Khine shares her passion for organic and holistic living at local and international conferences and symposiums where she appears as a speaker regularly. 

Khineder team believes that the best way to empower these children is by celebrating their survival and by working closely with the survivors _ creating job opportunities, providing them with education and world-class vocational trainings , they will become stronger, self-reliant and independent.  It is one of the main purposes of the company to produce quality products that would reflect pride and joy of the moms and survivors everywhere.  
Aside from creating skincare products using Burmese cooking recipes , Khine is also a reiki practitioner (Unlimited White Light & Usui Reiki Level III) and a certified Meditation , Mindfulness and yoga  teacher . She regularly offers free reiki and meditation sessions at Khineder Creations and hopes to share her yoga journey soon at the workshops .

Khine spends most of her time in Emmaus with her son and team. She is recently named the Mission/ Woman of the Year 2020 by YWCA Bethlehem for her commitment to the community welfare and philanthropy. She was also named 2017 Entrepeneur of the Year by Lehigh Valley Happening List , 2019 Business Woman of the Year by the BW NICE Lehigh Valley Chapter , an honoree of 2019 Lehigh Valley Business 40 Under Forty.
Our First Storefront
Khineder Creations Skincare and Gift Shop was opened in Emmaus, Pennsylvania on January 4th 2017 at 379 Chestnut Street in Emmaus. In January ,2020, the store relocated to 328 Main Street , Emmaus to accommodate growing customer base and to offer a larger space for 'Khineder networking'.

Awards and Recognition
-2017 Entrepreneur (Lehigh Valley Happening List) 
-2017 Best Retail Store ( East Penn- Nexzest) 
-2018 Best of Lehigh Valley (Lehigh Valley Magazine) 
-2019 Forty Under 40 (Lehigh Valley Business Council ) 
-2019 Business Woman of the Year (BW NICE Lehigh Valley Chapter) 
-2020 YWCA Bethlehem Mission / Woman of the Year
Related Articles 
http://www.lvb.com/section/40-Under-40-Awards  
http://lehighvalleystyle.com/people/insight/khine-khineder-creations/ 
The Morning Call : http://www.mcall.com/business/retailwatch/mc-khineder-creations-emmaus-retail-watch-0122-20170121-column.html
Lehigh Valley Business : file:///C:/Users/Khine/Downloads/Khineder%20Final.pdf
WFMZ Channel 69 : http://www.wfmz.com/features/life-lessons/life-lessons-khineder-creations/629403917 
http://www.lvb.com/apps/pbcs.dll/article?AID=/20180119/LVB01/180119846/an-entrepreneurs-inspirational-mission-of-helping-others?+Daily&utm_term=http%3a%2f%2fwww.lvb.com%2farticle%2f20180119%2fLVB01%2f180119846%2fan-entrepreneurs-inspirational-mission-of-helping-others+Daily+News%3a+An+entrepreneur's+inspirational+mission+of+helping+others&template=mobileart