Happy Memorial Day
***Stay at home ***
Take 15% off at checkout with code

MEMDAY

(Minimum $50 purchase-expires June 6 🤗)

and

Visit our Etsy shop !!
Please kindly note that you MUST CLICK APPLY coupon code at checkout in order to receive a discount.  We cannot apply coupon for you from our end. Thank you for your understanding. 
FREE SHIPPING for 
all U.S. orders over $150. 
***
3/22/2020
Message from our Founder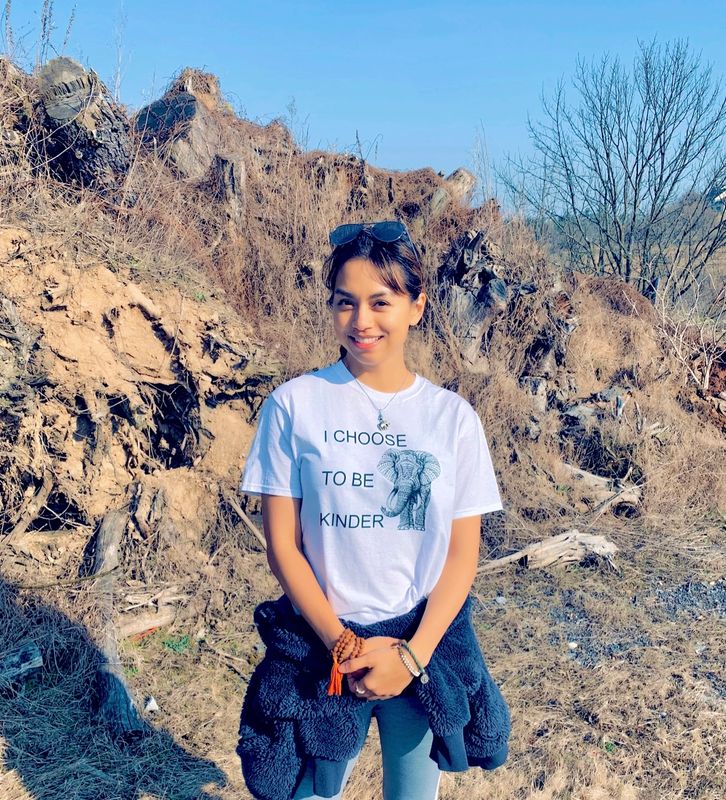 Dear Khineder family, 

Today I completed my 14-day self quarantine. During the quarantine, I followed the CDC and my doctor's orders strictly_ from taking temperatures twice a day to watching any cold symptoms _ and although it was a bit overwhelming, I am glad I followed it through.  It made me feel safer for myself, my son , my neighbors and my community. 
I am so grateful to my neighbors for always leaving food for me at my door . It was yoga, art, my son , messages and phone calls from my family and friends that made the past two weeks easier. Lately I'm back to sketching and connecting with the artistic side that was reborn after my Yoga Teacher Training and hope to share some of the items I created during my quarantine (including this shirt) soon with everyone. 
These days we are dealing with so much information and changes that it is hard not to get anxious . As of last Thursday , we took a very difficult decision to close our doors in compliance with the Governor's order. Like every small business, taking this decision to not only close our physical shop but also to cut down the operation since all our team members are no longer allowed to come in until further notice, has been extremely difficult and honestly disheartening. 
However , our priority is to keep our community safe and support every activity that focuses on everyone's safety.
Now as I cook , clean, wrap, jar, pack , and ship the orders, I sure will be reminded of the times when Khineder Creations was just launched. You'll be receiving personal notes from me like the old times and depending on my mood, you might get extra gifts with your orders as well ;) 
In the mean time, I am working on presenting 'hand sanitizer' with the ingredients you feel safe with. Yes, they will be available soon! Please be patient with me if your orders are a few days delayed . Some of our team members here and overseas are still working online to answer your inquiries but if you want to reach me directly, please understand that I may not be able to reply as quickly as I'd want to. 
Anddd I'm also playing "Miss Khine" with 
my First Grader who's adjusting to homeschooling . He likes to ask lots and lots of questions . THIS , is probably the most challenging job I've ever taken! 
So, just know that when you're passing by Emmaus and spot a shadow waving at you from these beautiful, bright windows of 328 Main Street, it's not a ghost :) Your love and continued support is immense. 
I truly appreciate you all from the bottom of my heart .
Stay home, stay connected and please continue to spread love with fun posts/ memes / messages ❤️ 🙏🏻 
Sending you all love and light -
Khine 
#stayhome #supportsmallbusiness
#staypositive #standtogether







***


Thank you for visiting our online store. Khineder Creations is a Pennsylvania-based company that produces all-natural, chemical-free bath and beauty products, using organic, gluten-free farm produce , proudly handmade by local moms. 

After years of researching for the products that are completely chemical-free, we came up with a team to design and produce products that are safe and effective for all ages. Our products are guaranteed 100% free of chemicals, preservatives, perfumes and genetically modified organisms (GMOs).  
We want to make sure that these products are suitable for even small children and elderly that have very delicate skins. Our products are lab-tested for acute toxicity, eye and skin irritation and skin sensitization. We are also vegan and gluten-free as well . We hope you enjoy our products as much as we enjoy creating them for you. And know that every time you purchase a product from us , you are helping survivors of domestic violence and sex trafficking rebuild their lives .  It is our mission to help them reintegrate into the society, follow their passion and rediscover the opportunities that were robbed from them. 
Visit our Khineder Blog here and hop on the Khineder Journey with us every week.  Follow us on Facebook, and Instagram to stay in touch as well .
 Let's be kinder to ourselves with #khinedercreations !