Instant Repair: Face Oil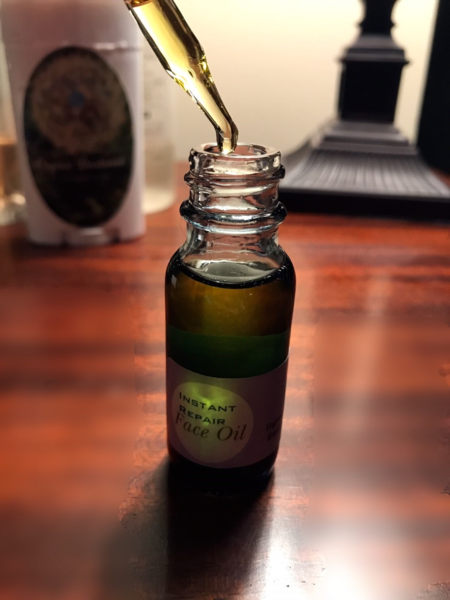 I'll admit ~ I love everything with coconut oil and I cannot live without it.
Growing up, I watched both my grandmother Mi Maw and her sister that religiously used coconut oil (both passed away at the ages of 97 and 101) with long hair reaching their waists and still had obvious hints of dark hair underneath their beautiful silver hair even at that age, was mesmerizing. It is a miracle oil for me and since I started using it in 2016, I am seeing visible results on my skin.
But I find it important to take a break from coconut oil every now and then and feed my skin with something as good and powerful. That's how this Instant Repair Face Oil came to exist. I wanted a light-weight, non-greasy, suitable for all-skin type oil that can be used throughout the year. Not every "good oil" is the "right oil" for us. You have to understand that no matter how good some oils are, our skins can be sensitive to those oils. In this Face Oil, I made sure that these oils are OKAY for most users in the market. As always, my recipes are simple and very well-researched to address most of the skin issues.
According to Good Housekeeping Online Health& Beauty Magazine, there are 7 major benefits in using face oil.
If you are interested , please read the article here : http://www.goodhousekeeping.com/beauty/anti-aging/a36318/face-oils-benefits/
For me, I use this oil throughout the day, for multiple purposes~ it is my night rejuvenation serum, my primer in the morning, my glow-enhancer in the middle of the day, my skin food for all the dry patches on my body. And my son loves it too!
Carry this child-proof little bottle with you wherever you go to look beautiful, feel awesome and stay protected from cold, dry weather.
Kindest Regards-
Khine
** The Face Oil is now available for purchase with a Gift Set (Skincare Set) or individually. Please visit SHOP and click on INSTANT REPAIR FACE OIL to purchase. **